Although we do not provide any direct support for the Dymo Printer we use a Dymo LabelWriter printer to print receipts at our Derby Party.
Instructions for setting up a Dymo printer are listed below. We found one at LabelCity.
You will need HORSERACE or GolfBets Version 6.0 or later released in January, 2006. Click the Update button to order an upgrade.
At Control Panel, Printers select your DYMO printer and make it the default printer by clicking
File
Open
Make Default
To set up the correct printer form
Double click on the DYMO printer
Under the printer tab click Properties
Under the general tab click Preferences
Click Advanced
Advanced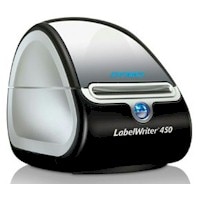 Under Paper Size Click Continuous Wide
click apply or OK